VITECCONS SUMMARIZES AND ISSUES COMPLETION CERTIFICATES FOR 2 TRAINING COURSES OF SHOP DRAWING ENGINEER
On the morning of February 11, 2023, Viteccons summarized and issued completion certificates of the "Shopdrawing Engineer" training course to the young engineers. These training courses took place from June to August and September to November of 2022, and were designed to impart skills and knowledge to the next generation of passionate and dynamic staff members within the company.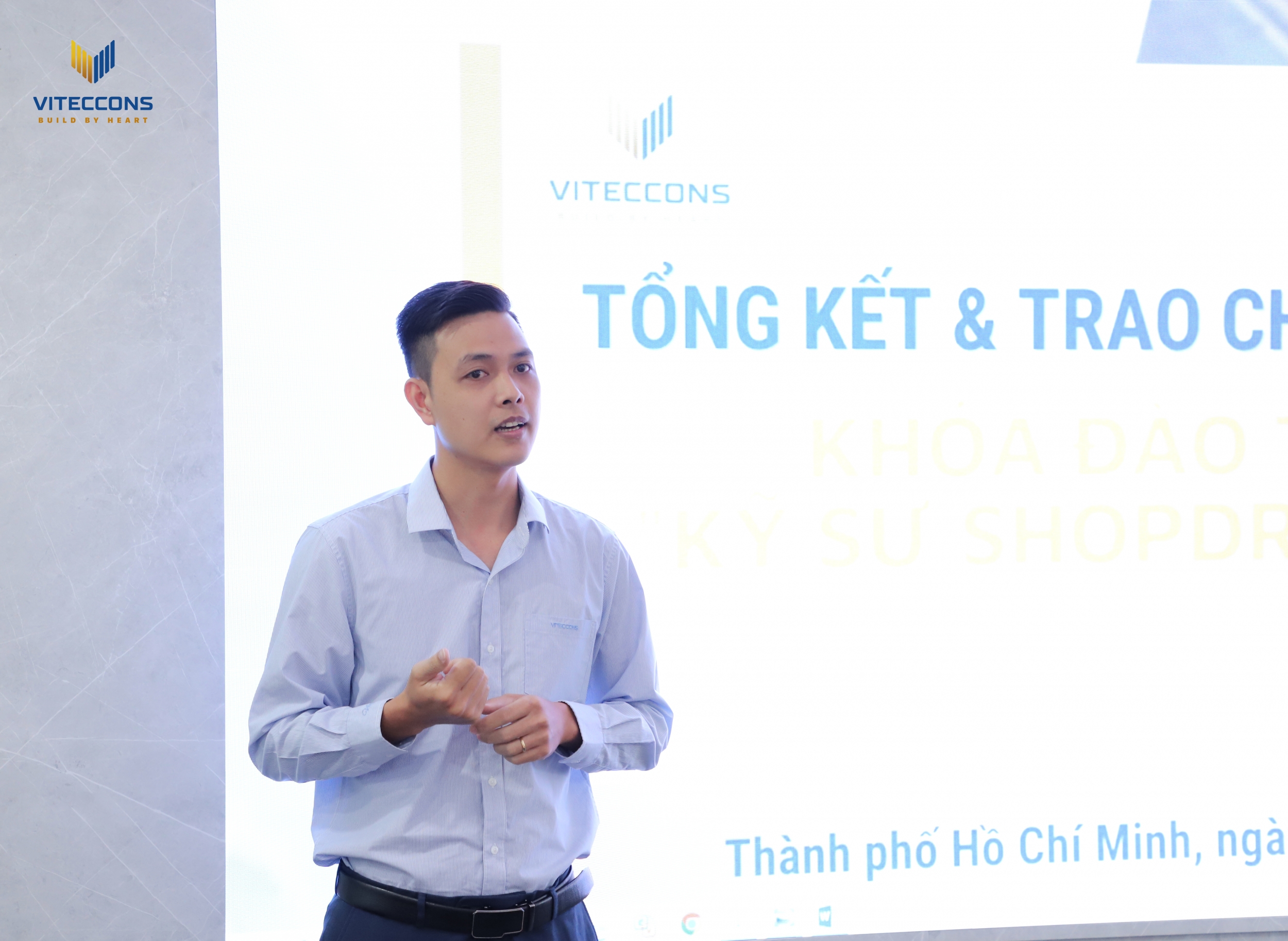 Mr. Bui Duy Tu - Head of BIM Department (Technical Department) who directly trained the Shopdrawing engineer course speaks at the closing ceremony and awarded the certificates of course completion
With over 72 sessions combining both theoretical and practical components, including on-site application, the course content was overseen by the BIM department within the Technical department, ensuring that it was closely aligned with real-world situations:
- Detailed implementation of all structural and finishing drawings;
- Construction techniques;
- In-depth understanding of software usage;
- Planning and overseeing Shopdrawing activities at the project site;
- Professional competencies of a Shopdrawing Engineer.

At the closing ceremony, the General Director, Mr. Phan Huy Vinh, awarded the certificates of completion for the training course to recognize the participants' achievements and to serve as motivation for the young engineers to continue to strive and dedicate more in their jobs. This training topic is just one of the many that the company periodically conducts, aimed at providing practical knowledge to new employees to enable them to quickly learn and apply it in their work, thereby improving overall labor efficiency.
General Director Phan Huy Vinh awarded certificates for those who excellent completed the training course
Viteccons is committed to providing the best working environment, development opportunities, and continuous training to all employees, helping them to grow and succeed in their careers. This training course is part of the Company's efforts to enhance its employees' technical capacity and meet its customers' requirements.
Some pictures at the ceremony: